When:
December 2, 2019 – December 7, 2019
all-day
2019-12-02T00:00:00-05:00
2019-12-08T00:00:00-05:00
Where:
Parque Bicentenario Cerrillos in Santiago de Chile, Chile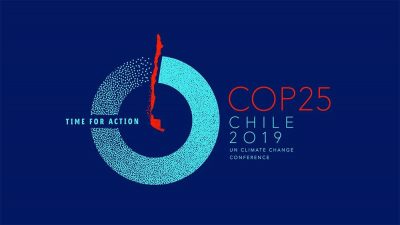 The Santiago Climate Change Conference, which will feature the 25th session of the Conference of the Parties (COP 25) to the UNFCCC and meetings of the UNFCCC subsidiary bodies, will convene from 2-13 December 2019. The pre-sessional period will be from 26 November to 1 December 2019.
As decided at the conclusion of COP 24, COP 25 will take place in Chile, with a pre-COP meeting taking place in Costa Rica.
The Santiago Climate Change Conference will be informed by the outcomes of, among other meetings, the UN Climate Action Summit held in New York, US, in September 2019, as well as three Regional Climate Weeks: Africa Climate Week held in March, Latin America and Caribbean Climate Week held in August, and Asia-Pacific Climate Week held in September.
Dahdaleh Institute Postdoc Mark Terry will be speaking on youth engagement through film at the Youth Climate Action Day on Dec. 5, conducting a press conference prior to the event, and presenting the winning videos for this year's Global Youth Video Competition.