When:
December 2, 2019 – December 7, 2019
all-day
2019-12-02T00:00:00-05:00
2019-12-08T00:00:00-05:00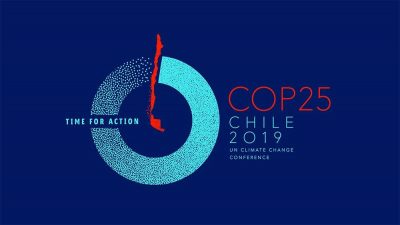 The UN Climate Change Conference COP 25 (2 – 13 December 2019) will take place under the Presidency of the Government of Chile and will be held with logistical support from the Government of Spain. SBSTA 51/ SBI 51 will take place 2-9 December 2019. The pre-sessional period is from 25 November - 1 December 2019. The President-Designate for the conference is Ms. Carolina Schmidt Zaldivar, Minister of Environment of Chile.
The conference is designed to take the next crucial steps in the UN climate change process. Following agreement on the implementation guidelines of the Paris Agreement at COP 24 in Poland last year, a key objective is to complete several matters with respect to the full operationalization of the Paris Climate Change Agreement.
Dahdaleh Institute Postdoc Mark Terry will be speaking on youth engagement through film at the Youth Climate Action Day on December 5, conducting a press conference on December 3, and presenting the winning videos for this year's Global Youth Video Competition.