When:
November 27, 2019 @ 12:30 pm – 2:00 pm
2019-11-27T12:30:00-05:00
2019-11-27T14:00:00-05:00
Where:
Boardroom, Dahdaleh Institute for Global Health Research
Suite 2150
Dahdaleh Building., 88 Pond Rd.
Toronto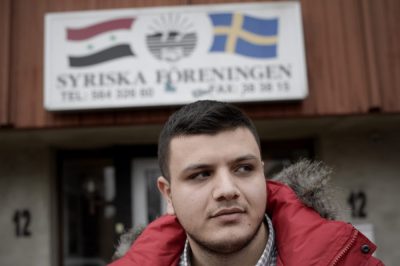 Refugee experiences of seeking protection are characterized by a high degree of both agency and precarity, both of which impact wellbeing, shape positionality and transform identity. Centralizing refugees as the primary source of knowledge and presenting them as real individuals with diverse backgrounds and aspirations, this presentation examines the global crisis of forced migration through the lens of Syrian refugees' journeys to Sweden.
Having escaped war in their homeland, Syrian refugees find themselves trapped between a failing protection regime and a global system of border controls. Those who decide to journey towards Sweden are transformed from refugees, entitled to protection, into "illegal migrants" who are criminalized for challenging the regime of borders. Due to such precarity and illegality, refugees arrive at their intended destinations with a heavy load of pain, fear, and confusion, which influences their sense of identity and belonging, and affects their ability to integrate into their new localities.
Informed by the knowledge of refugees and through their stories, this research examines the refugee journey as a complex and messy act of survival and resistance. It challenges dominant narratives that represent refugees either as victims who deserve aid in their regions or as threats when they exert their agency and journey towards the global north. It problematizes the dominant narrative of the "European crisis of migration" and proposes that the "unauthorized" arrivals of refugees in Europe are reflections of a global crisis of protection, a crisis that develops as a result of a failing protection regime and bordering practices against refugees from the global south.
Speaker
Dr. Maissaa Almustafa holds a Ph.D. in Global Governance from Balsillie School of International Affairs, Wilfrid Laurier University (WLU). She is a Research Fellow at the Dahdaleh Institute for Global Health Research, a Research Associate at the University of Waterloo, an Affiliated Researcher with the International Migration Research Center, and teaches at the WLU Department of Political Science. Dr. Almustafa's research focuses on forced displacement, statelessness, refugees' experiences, and the impact of refugees' journeys on their lives and wellbeing. She is actively involved in refugees' resettlement in the Waterloo region.
Register
---
Image Credit: Hanna Shammo, 23, from Syria is pictured outside the Syrian Association on November 19, 2013 in Vaellingby, near Stockholm. (Jonathan Nackstrand/AFP/Getty Images)