When:
March 19, 2020 @ 2:30 pm – 4:30 pm
2020-03-19T14:30:00-04:00
2020-03-19T16:30:00-04:00
Where:
York Lanes, Rm 305, YorkU Keele Campus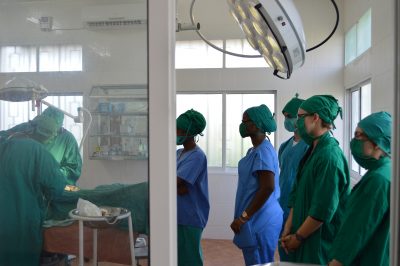 Co-presented with The Harriet Tubman Institute for Research on Africa and its Diasporas
Since the mid-2000s, "voluntourism," or short-term student volunteering abroad, has emerged as an international travel trend, and simultaneously as the subject of heated popular and academic debate. Among aspiring health professionals, student placements in health facilities in the so-called global South are particularly attractive.
In popular and academic debates on hospital voluntourism, one side lauds the perceived positive impact of international volunteers on hosting institutions; the other highlights ethical conundrums and possible harms, some going so far as to depict student volunteers as neocolonial narcissists benefitting more from the experience than hosting communities do.
Drawing on online research and in-depth ethnographic fieldwork in Tanzania since 2008, this talk leaves behind polarizing narratives of heroes and villains and instead focuses on the systematic drivers and wider implications of voluntourism to consider how history and economics collude in the for-profit voluntourism industry to seemingly render moral the familiar yet unmarked racialized tropes informing imaginaries of doing good elsewhere.
---
Speaker
Noelle Sullivan, PhD, is an Associate Professor of Instruction in Global Health Studies at Northwestern University in Evanston, Illinois. She grew up just outside of Vancouver, British Columbia, Canada, where she received a B.A. with Distinction in Anthropology and History. She completed an MA in African and African American Studies at the University at Albany, SUNY (2002), and then an MA (2006) and PhD (2011) in Anthropology from the University of Florida, with a certificate in African Studies.
Dr. Sullivan is a Board Member for the charity Worldview Education and Care. In 2016-2017, she was a Fellow with The Op-Ed Project, which aims to diversify the voices and issues depicted in the media. She is currently a Faculty Fellow with the Alice Kaplan Institute for the Humanities at Northwestern University, where she is completing her book on international volunteering in health care settings in Tanzania.
Respondent
Maggie MacDonald, PhD is Associate Professor and Graduate Program Director in the Department of Anthropology, York University. She is a medical anthropologist with research and teaching expertise in women's reproductive health. Dr. MacDonald has conducted long term ethnographic research with global health NGOs and advocates, maternal health NGOs in Senegal, and amongst midwives and their clients in Canada.