When:
October 20, 2020 @ 1:00 pm – 2:00 pm
2020-10-20T13:00:00-04:00
2020-10-20T14:00:00-04:00
Where:
Online - details will be sent to registrants

Climate change and the COVID-19 pandemic are the latest in a series of global crises that both illuminate and exacerbate inequity. We need new ways to approach global health in the 21st century, but how?
On October 20, Bruce Mau will explore critical problem-solving as a way to address global health challenges, with a focus on equity, effectiveness, and excellence. Guided by Mau's 24 Principles for Designing Massive Change, we will discover how design can help us to both understand and act in the world.
In conversation with James Orbinski, Sarah Bay-Cheng, and Irene Chong.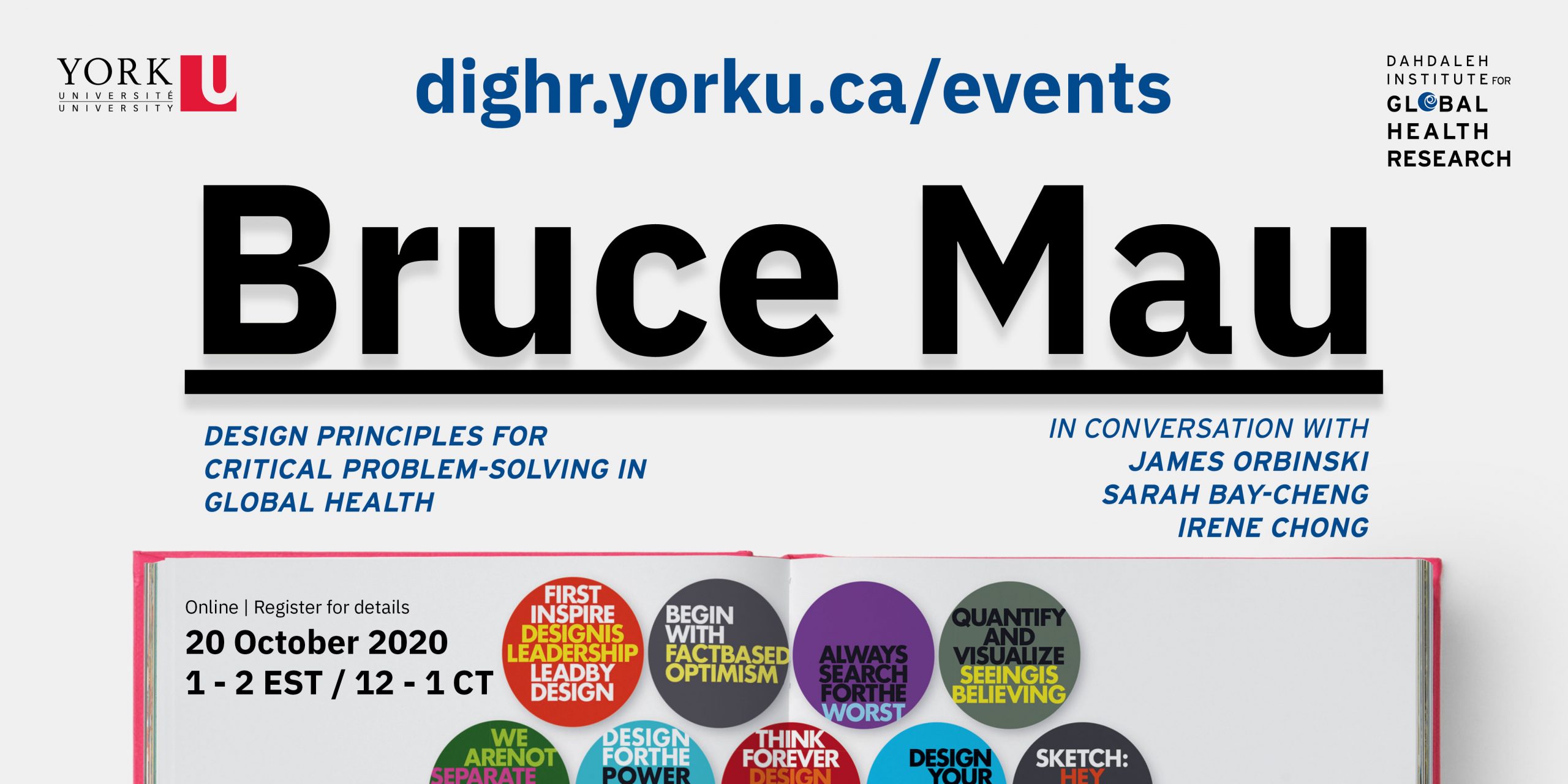 ---
Speakers
Bruce Mau
Founder, Bruce Mau Studio
Bruce Mau is a brilliantly creative optimist whose love of thorny problems led him to create a methodology for whole-system transformation. Across 30 years of design innovation, he's collaborated with leading organizations, heads of state, renowned artists and fellow optimists. A serial entrepreneur since the age of 9, he became an international figure with the publication of his landmark S,M,L,XL , designed and co-authored with Rem Koolhaas. He is the author of Massive Change and MC24, and co-founder and CEO of Bruce Mau Studio and Massive Change Network, holistic design collectives based in Chicago. He is also the Chief Design Officer for Freeman, the pioneers in live brand experience.
James Orbinski
Director, Dahdaleh Institute for Global Health Research
Prior to joining the Dahdaleh Institute for Global Health Research as inaugural Director, Dr. James Orbinski provided medical humanitarian relief in situations of war, famine, epidemic disease, and genocide with Médecins Sans Frontières / Doctors Without Borders (MSF).
Dr. Orbinski was elected International President of MSF from 1998-2001, accepted the Nobel Peace Prize awarded to MSF in 1999, and co-chaired the founding of the Drugs for Neglected Diseases Initiative in 2004. He co-founded Dignitas International, is a Board Member of Grand Challenges Canada, and has been a member of several bodies committed to improving health equity both in Canada and around the world. For this and other work, Dr. Orbinski was appointed as an Officer of the Order of Canada and awarded the Meritorious Service Cross.
An avid canoeist, James lives in Guelph, Ontario, with his wife and their three children.
Sarah Bay-Cheng
Dean, School of the Arts, Media, Performance and Design, York University
Sarah Bay-Cheng is the Dean of the School of the Arts, Media, Performance and Design at York University in Toronto, Canada. She was formerly Chair and Professor of Theater and Dance at Bowdoin College and was a Fulbright Visiting Scholar at Utrecht University in 2015. Bay-Cheng's research focuses on the intersections among theater, performance, and media including histories of cinema, social media, and digital technologies in performance.
Irene Chong
Professor, School of Creative Arts & Animation, Seneca College + Independent Design Strategist
A Design Strategist and educator, Irene's interests lie at the intersect of design, innovation, business, and social impact. She has lived around the world and worked across the public and private sector, including at New Zealand's Inland Revenue, Design Exchange, Gluckstein Design, McDonald's, Li & Fung, Steelcase, Adaptive Path, CEDIM University, Seneca College, Deloitte, and Fjord (Accenture). Irene is an amateur gardener and sailing enthusiast.