When:
February 26, 2020 @ 9:00 am – 4:00 pm
2020-02-26T09:00:00-05:00
2020-02-26T16:00:00-05:00
Where:
Canada 2020 Studio
35 O'Connor Street Ottawa
ON K1P 5M4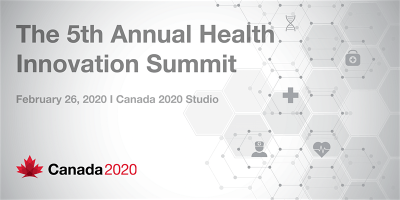 Policymakers across all political stripes and jurisdictions are being confronted with the realities of a health system under immense pressure - the sustainability of which is being challenged by a growing and aging population.
Charting that path to sustainability has been the core concern of the Canada 2020 Health Innovation Summit. Now in its fifth year, the Summit will look at how advancements in technology and investments in innovation help improve health outcomes and reduce costs.
This year, we will also be analyzing the ways in which these advancements interact with the implementation of a Pharmacare plan.
Bringing together key representatives from across the health system (federal and provincial policymakers, hospital executives, patient advocates, industry leaders and researchers), the Canada 2020 Health Innovation Summit will be structured around keynotes, presentations, panel discussions and networking.
Registration is now open. Early bird prices available until January 31st, 2020
---
Program Agenda
Note: exact timing subject to change
9:00 Registration & Welcome from Canada 2020
9:15 Welcoming Presentation
Dr. Sandy Buchman, President, Canadian Medical Association
9:30 Presentation: Health Care Costs, Demographic Pressures & Emerging Challenges
Mostafa Askari, Chief Economist, IFSD, uOttawa
10:00 Panel Discussion: Growing the Health Innovation Ecosystem
Matthew Collingridge, General Manager, Digital, GE Healthcare
Kathryn Hughes, TELUS Health
Janet Daglish, National Director, Bayshore
Moderated by Bill Charnetski, EVP Point-and-Click Care
11:00 Presentation: Stepping into the Future of Treatment & Care in Canada
Elizabeth Toller, Executive Director, Regulatory Innovation, Health Canada
David Lee, Chief Regulatory Officer, Health Canada
12:00 Networking Lunch & Conversation
The Hon. Mary Ng, Minister of Small Business, Export Promotion and International Trade
13:15 In Conversation: Adopting Innovation on the Front Lines
Alex Munter, President & CEO, CHEO
Jodi Butts, Independent Board Member
14:00 Special Presentation: Global Context, Global Risks
Dr. James Orbinski, Dahdeleh Centre for Global Health Research, York University
15:00 The 3 P's of Health Politics in 2020 - Pharmacare, Provinces & Pandemic
Tim Powers, Summa Strategies
Anne McGrath, National Director, NDP
Peter Cleary, Santis Health
16:00 Conclusion of forum