Global Health Films at Hot Docs Festival
April 23, 2019
---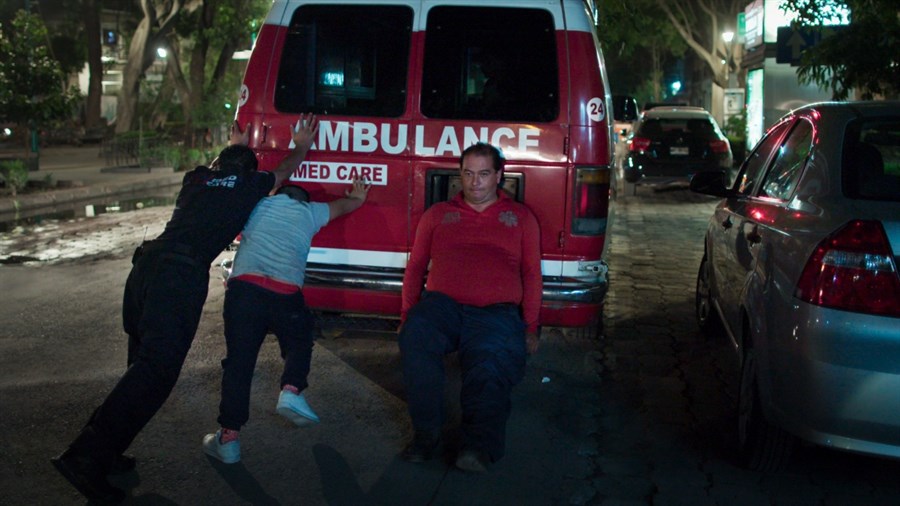 Hot Docs, North America's largest documentary festival, offers an outstanding selection of over 200 films from Canada and around the world to Toronto audiences. To help you sort through them all, we compiled ten films on global health themes screening at this year.
The global sanitation crisis finds an unlikely and eccentric hero in 60-year-old Singaporean Jack Sim, also known as Mr. Toilet. By blending a lighthearted sense of humour with some compelling and unnerving statistics, he cuts through the cultural taboos of a topic that tends to make people uncomfortable. That discomfort, however, comes at a deadly cost. Nearly a third of the world's population is put at risk by lack of access to proper sanitation, be it unsafe outdoor conditions or improper sewage systems. While Jack's efforts are on a global scale, a major part of his advocacy is focused on India, where 200,000 children die each year from poor sanitation and women are assaulted in public spaces for lack of private bathrooms. Mr. Toilet faces large corporate fights and thinning resources, but his sense of fun and fervour reveal a determined hero that the world needs more than ever.
"Under the current political Islamic military rule, women are not allowed to play football in Sudan—and we are not allowed to make films—but…" The opening quote of this film sets the tone for a group of women who defy an oppressive regime whose laws hold them back from following their dreams. Meet Sara, a remarkable and entrepreneurial young Sudanese woman whose dream is to have a soccer team that will one day compete in the FIFA Women's World Cup. She and her teammates live on the outskirts of the country's capital, a city of contradictions where family traditions, politics and religion dare to dictate their life plans. But through their common love of sport, strong bonds and street smarts, these fearless, unstoppable women challenge the standards and stereotypical perceptions of their country.
Jiho Im is a globally celebrated chef, known for travelling from one end of the Korean peninsula to the other, foraging for unique ingredients known for their medicinal properties and preparing delightful meals for unsuspecting locals. He's an old soul longing for the maternal affection that was taken from him at an early age. On one of Jiho's journeys, he meets an elder named Soon-Gyu Kim. She offers Jiho a warm soup that conjures up childhood memories of longing for the mother he never knew. In return, he prepares an elaborate meal, thus sowing the seeds of a deeply moving friendship. Wandering Chef is the heartwarming story of how food can bring people together in times of clarity, confusion and loss. Through Chef Jiho Im, we rediscover food as a sacred practice that can generate lifelong memories.
In 1979, China imposed the nationwide "one-child policy" in order to curb population growth and boost economic development. The strictly enforced measure prevented an estimated 400 million births and led to a surge of state-mandated abortions and sterilizations, abandoned children and feticides. After the birth of her first child in the US, filmmaker Nanfu Wang (Hooligan Sparrow) is compelled to examine her own family's conflicted past under the ban. Along with co-director Jialing Zhang, she travels back to China, juxtaposing the government's sanitization of the large-scale social experiment and the surprising reflections of those tasked with its enforcement. Through raw vérité, interviews and emotional confessions comes a searing portrait of a human rights tragedy. Winner of Sundance's US Grand Jury Prize, this fearless exposé unmasks the wrenching psychic and tangible costs millions of families continue to pay.
From the acclaimed Russian-Indigenous director of The Tundra Book (2011) comes a new feature, the story of Inuit and Chukchi hunters who live along the Bering Strait in the far east of Russia. Through epic storytelling, breathtaking cinematography and a complex and mesmerizing soundtrack, the story of the traditional sea hunters' journey unfolds over a vibrant ecosystem rich with wildlife. Community leader Alexei and Elder Alexander are at the centre of the film as they set out to sea on their traditional sea hunt. For the Inuit and Chukchi, the hunt for marine mammals (whales, walruses and seals) has been a foundation of their culture since time immemorial and an important way of providing for their families. In the face of relentless climate change, Alexei and Alexander struggle to keep this crucial knowledge nowadays. Woven throughout the film, vivid animation tells the story of the birth of the whale, seamlessly blending with the past, present and future of the Indigenous people of the Bering Strait.
In 1991, a refugee arrived in Canada with his wife and five children, having fled his home in Kandahar, Afghanistan. Decades later, upon discovering the dwindling hamlet of Kandahar, Saskatchewan, he felt an immediate connection that needed to be explored. Abdul Bari Jamal's impulsive purchase of eight empty lots in the middle of the Canadian Prairies became an unexpected inheritance for his grown children. When the extended family of self-declared urbanites make their first trip together to witness their new property, Jamal's daughter takes the opportunity to document the unusual family vacation, hoping to unpack her father's relationship to his homeland and Canadian patriotism. What transpires on their journey is so much more than a humorous Green Acres collision of cultures—it's a heartfelt and moving conversation about two nations connected by conflict and how much of our identity is tied to the land we occupy.
High above the streets of Central Havana, some of its poorest citizens are forced into rooftop homes by a chronic city-wide housing shortage. Director Pedro Ruiz captures the lives of 11 of these rooftop dwellers, all with a unique perspective on the happenings on the streets below. Each of the resilient characters speaks of the personal hardships and experiences they've faced since the founding of a revolutionary government. Their lives are about to change again as they find themselves in a moment of national transformation and a drastically changing relationship with the encroaching forces of the United States and capitalism. With the help of stunning cinematography and inspired soundscapes, Ruiz skillfully interweaves these stories to create a vibrant tapestry of a city and country once again in the grips of major upheaval.
In 2013, a ruling from the Dominican Republic's constitutional court effectively rescinded citizenship rights for over 200,000 Dominican-born residents of Haitian descent. A rise in populist politics also saw violent mobs springing up nationwide, committed to seeing the destruction of Black Dominicans who were already living under the constant threat of deportation. Bending to the weight of international outrage, the government established a regularization process—but only for a limited time. Racing against the clock, 23-year-old Pikilina must scramble to gather the documentation necessary to prove her birthright and secure citizenship for her two children. This horrifying look at the not-so-new face of nationalism comes more than 80 years after dictator Rafael Trujillo ordered the slaughter of over 12,000 Haitians living on the northern frontier. With one woman's story of struggle, Massacre River offers a study on the precarity of Black life and the abhorrent fantasy of borders.
With a population of close to nine million, Mexico City has only 45 state-funded ambulances to serve in emergencies. Meet the Ochoa family, who, like many, run a for-profit ambulance service to meet the public's needs when the state falls short. They spend their sleepless nights scanning police radios and competing to be the first responder to emergency calls in the city's wealthiest neighbourhoods. But it's not all altruistic. This is, after all, a quasi-legal business—bills must be paid, police must be bribed—and the Ochoas often find themselves in complicated moral dilemmas, forced to barter with patients in an attempt to balance their books with their own ethical standard of care. Midnight Family is an immersive, white-knuckle ride through the shocking failures of a broken health care system.
The observation deck overlooking an ancient pine forest in Lithuania, decimated by the toxic defecations of the local cormorant population, provides an uncanny platform for human commentary on environmental change, population increase and migration. Swinging between hilarious, horrifying and Hitchcockian, Acid Forest makes spectacular use of a bird's-eye view to show the shocking sparsity of the woods below and the impressive heights of human hypocrisy. Tourists complain of an avian plot to destroy nature, that "it started after the war, when we expelled them from Europe" and "they have to be exterminated." Uttered against the surreal backdrop of denuded trees no longer lush enough to hide the entrance to one of Hitler's bunkers, this criticism sounds less like a conspiracy than an historical fait accompli. A paradise free from natural predators, with plenty of fish and lots of room to procreate, is a luxury afforded to only one species on Earth… and it's not an aquatic bird.
---
Image Credit: Still from Midnight Family/Luke Lorentzen
---
Related Content
---
Next/Previous
Vote for Your Favourite Scientific Days Poster »
« James Orbinski on Freedom from Want on the CBC
---