When:
March 13, 2020 @ 6:00 pm – 8:00 pm
2020-03-13T18:00:00-04:00
2020-03-13T20:00:00-04:00
Where:
Arts & Letters Club
14 Elm Street
Toronto
Canada (Yonge St & Dundas St)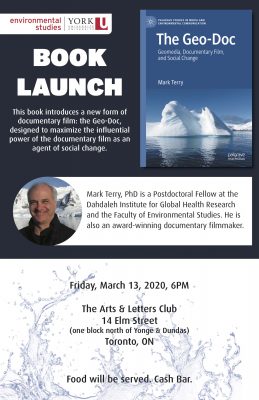 Join the Dahdaleh Institute and Postdoc Mark Terry to celebrate the release of his new book, The Geo-Doc: Geomedia, Documentary Film, and Social Change.
Based on his PhD thesis, the book introduces the Geo-Doc as a new form of documentary film designed to maximize the influential power of the documentary film as an agent of social change.
---
Author
Mark Terry is the Postdoctoral Fellow, Documentary Film & Global Health at the Dahdaleh Institute for Global Health Research, cross-appointed at the Faculties of Health and Environmental Studies at York University in Toronto. He has worked throughout the global Arctic serving as the Scientist-in-Residence on Adventure Canada's circumnavigation of Iceland (2018), making the first documented film of a crossing of the Northwest Passage, The Polar Explorer (2011), and teaching at Arctic universities in St. Petersburg and Moscow, Russia. He has also worked in Antarctica with the British Antarctic Survey and the National Antarctic Scientific Center of Ukraine documenting this research in the film The Antarctica Challenge: A Global Warning (2009).
As a member of The Explorers Club, the Royal Canadian Geographical Society, the Canadian Council for Geographic Education, the Canadian Network for Environmental Education and Communication, the Royal Canadian Geographical Society, Mark teaches and speaks regularly about the environmental issues affecting the fragile eco-systems of the polar regions and, by extension, the world.
---
Synopsis
This book introduces a new form of documentary film: the Geo-Doc, designed to maximize the influential power of the documentary film as an agent of social change. By combining the proven methods and approaches as evidenced through historical, theoretical, digital, and ecocritical investigations with the unique affordances of Geographic Information System technology, a dynamic new documentary form emerges, one tested in the field with the United Nations. This book begins with an overview of the history of the documentary film with attention given to how it evolved as an instrument of social change. It examines theories surrounding mobilizing the documentary film as a communication tool between filmmakers and policymakers. Ecocinema and its semiotic storytelling techniques are also explored for their unique approaches in audience engagement. The proven methods identified throughout the book are combined with the spatial and temporal affordances provided by GIS technology to create the Geo-Doc, a new tool for the activist documentarian.
---
Poster